Do as I say, not as I Do!

WIKI
Chain migration is a term used by scholars to refer to the social process by which migrants from a particular town follow others from that town to a particular destination. The destination may be in another country or in a new location within the same country.
CBS NEWS (January 2018)
Excerpt
What is "chain migration"?
"Chain migration" -- officially known as "family reunification" under federal law -- is the process by which green card holders or legal U.S. residents may sponsor a family member for immigration to the United States.
It is the most common legal form of immigration to the United States. According to the Department of Homeland Security, 238,087 immigrants were categorized as a "family-sponsored preference" in 2016, and 566,706 came as "immediate relatives of U.S. citizens" (spouses, children, or parents).
Between 60 and 70 percent of all lawful permanent immigration to the United States in the past decade has family-based roots

.

White House definition via Twitter 2017
In 2016 and consistently sense.....
CHAIN MIGRATION must end now! Some people come in, and they bring their whole family with them, who can be truly evil. NOT ACCEPTABLE! pic.twitter.com/PQGeTTdRtX

— Donald J. Trump (@realDonaldTrump) November 1, 2017
December 2017 White House Twitter page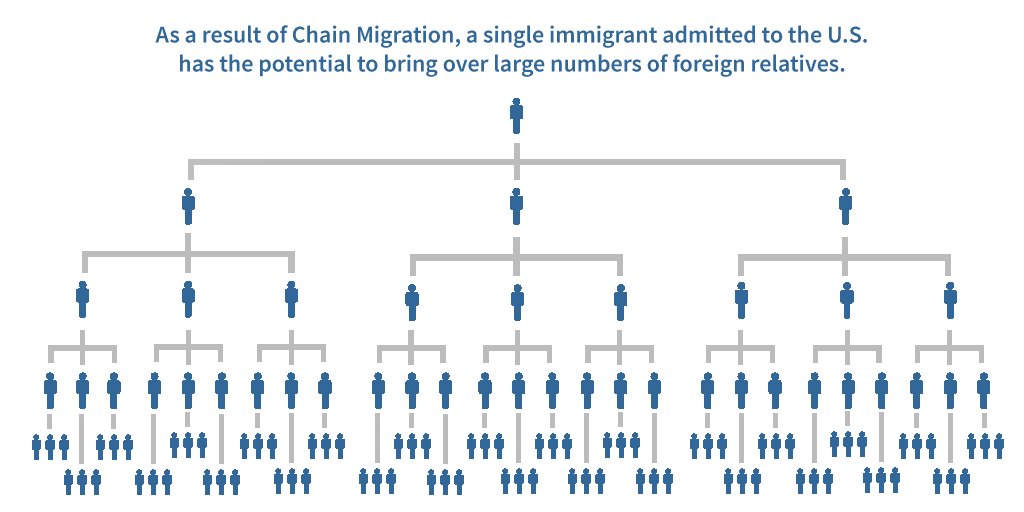 USA TODAY
I offer what you just reviewed is a penultimate example of Trumpism and an anthem for US Conservatism