The ugly difference between the GOP and growing diversity in the United States.
What follows isn't pretty but as time passes through the era of Trump we must realize we cannot avoid criticism of "the ugly." Let's start with a cover of the New Yorker Magazine November 19, 2018
T
he artwork cover via Barry Blitt's captioned: "Welcome to Congress from a piece written by
Françoise Mouly

Here is a much more clear example

of the image above. The piece is from Patheos dot com and linked

here

.
Bottom line: Leavenworth County Commiss
ioner Louis Kemp, a white Republican, told an African American woman that he was "part of the master race."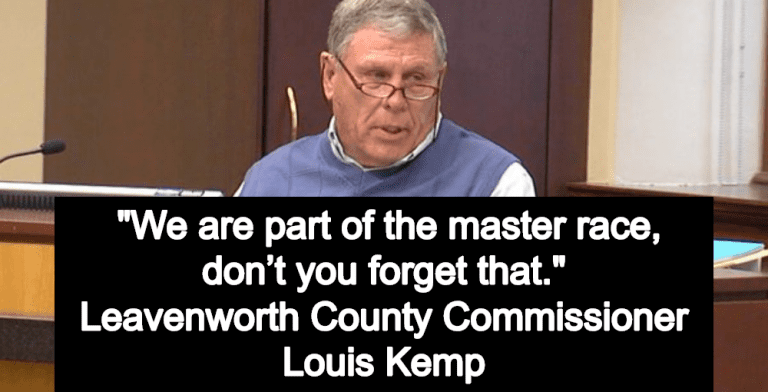 (Image via Twitter)

If you didn't read the Patheos piece linked above, re-consider. The HIll also published a piece on the ill-advised yet revealing comments. To be fair the offensive Commissioner was relating two people (one white and one black) to "master race" association based on the reality they both have gaps in their teeth. The real issue is the deep-rooted mental slippage from people who are of the political Right. The Hill's piece regarding Kemp is linked here. A joke is not a joke when it should never cross the boundaries of one's lips. If kept in the brain and never uttered the innate racist could very well exist in a non-discovered state.
This joke thing; let's take another look and listen.
How about Mississippi State Senators "joke" about a public hanging. It is important to remember the State of Mississippi is the undisputed co-leader among states of public lynchings of black people between 1877 and 1950. If per capita killings by hanging et fits your discernment Florida remains the per-capita leader.
"If he invited me to a publc hanging, I'd be on the front row"- Sen. Cindy Hyde-Smith says in Tupelo, MS after Colin Hutchinson, cattle rancher, praises her.


Hyde-Smith is in a runoff on Nov 27th against Mike Espy. pic.twitter.com/0a9jOEjokr

— Lamar White, Jr. (@LamarWhiteJr) November 11, 2018
The Daily Kos has published Hyde-Smith may have taken campaign money from a white supremacist group.
Are we taking this criticism a bit too far? I think not. watch and hear another great GOP [tcoam as he openly declared white civilization is the base core of humankind. In Mid-July 2016 during the Republican National Committee Conference debate. MSNBC made the mistake of allowing Iowa's Steve King on its air with the woefully inexperienced show host Chris Hayes.
Two minutes in the
history of the
US and the GOP which stands as a moniker right-leaning social and political ideology. King's party has yet to condemn and disavow his remarks and his constituency continue to elect King with all white supremacy in full bloom.
When I look at the opening New Yorker im
age (above), the reality of the image is also grounded in media which supports and feeds the perception of what was once portrayed in the quip:
"White is right" or "White is Right
" In either case the Party on the Right is a playing field for growing US racism, bigotry, and intolerance. Without supportive media, the party on the Right would be far less successful in promulgating increasing US racism, and the overt cases of hate-based violence.
A recent piece from Media Matters illustrates how one specific Fox News host seems to have devolved into a cesspool of racism and white supremacy. Tucker Carlson via Patheos.
Our purpose in developing the pieces wasn't to leverage past US history as a means to an end via ugly data depictions. Our purpose, if you actually need clarification, is more in the realm of delineating growing acceptance of US racism and bigotry via a political party and millions who support that party.